Fiberglass doors are often indistinguishable from real wood doors and can be painted or stained. Fiberglass doors rarely scratch, dent, peel, and are resistant to different weather conditions. This is the door choice for most people as you can achieve a great look without all the maintenance.

Steel Doors are less expensive paintable options and can usually be purchased in similar styles as fiberglass doors.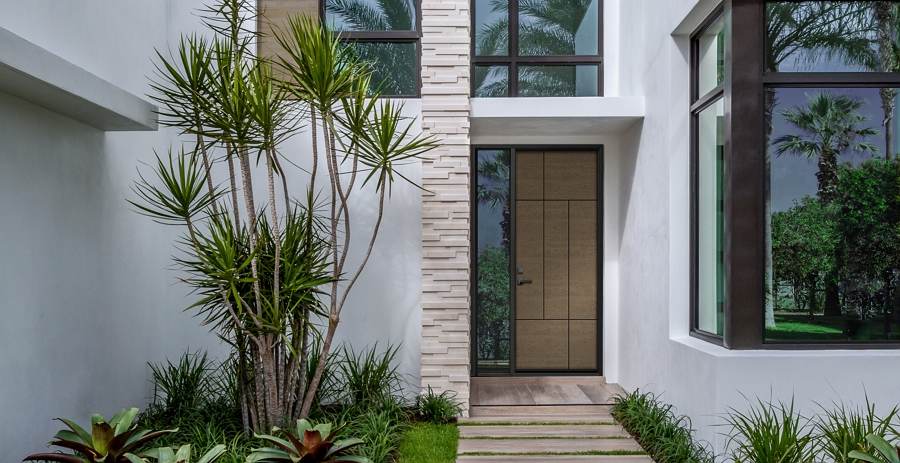 FIBERGLASS AND STEEL DOORS
THERMA-TRU – We are the nation's leading manufacturer of fiberglass and steel exterior door systems, and we are the most preferred brand of entry doors among building professionals.* Our attention to detail in styling, including our glass innovations, have brought improved curb appeal and value to our customers' homes, and the security and durability features built into every Therma-Tru door brings home comfort and security.
Click here to read more about Therma-tru and see some Therma-tru products.
MASONITE – At Masonite, we understand that a door is much more than a door – it is the backdrop for those first-day-of-school photos, the perfect camouflage during a game of hide-and-seek, a warm welcome for family and friends. Doors are woven into the fabric of our everyday lives, which is why the doors you choose for your home should express who you are and what you value.
Click here to read more about Masonite and see some Masonite products.
PLASTPRO – Plastpro brings the latest technological advancements to the industry to meet our customer's needs. Our commitment to quality is backed by extensive research and vertical integration, to ensure consistent innovative products. With vertical integration, we can focus on improving each individual door component by maintaining control over each stage of development from raw material to finished product.
Click here to read more about Plastpro and see some Plastpro products.
JELDWEN – JELD-WEN is one of the world's leading manufacturers of reliable windows and doors. Our extensive product offering encompasses windows, exterior doors, interior doors and related building products that are sold globally through multiple distribution channels, including retail home centers, wholesale distributors and building products dealers.
Click here to read more about JELD-WEN and see some JELD-WEN products.
DECORATIVE GLASS FOR FIBERGLASS AND STEEL DOORS
Have a question? Please complete this form and one of our team members will get back with you shortly.