Quaker Windows & Doors is the most diverse window and door manufacturer in the United States. Quaker's broad array of windows and doors is ideal for almost any type of home, from traditional to modern. For new homes or current homes needing new windows and doors, Quaker has it covered. But it's more than just the products. It's an unparalleled attention to detail to ensure quality and craftsmanship is always at the forefront. It's leveraging our 70 years of experience and expertise to design products that don't just meet standards, they exceed them. With the Quaker Difference as our guide and our vast window and door family of products, Quaker can always provide you with the "Right Solution" for your project.
Visit www.quakerwindows.com for more details.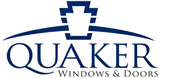 Brighton Series
The Brighton Series is Quaker's Wood interior/Aluminum Exterior window and door product line. Traditional in design, what makes the Brighton so popular is its nearly unlimited customization possibilities. Choose from either Hung or Venting operation windows and complete your look with fixed picture windows. Even add in swinging, sliding, bi-folding or telescoping doors. Choose from 30+ "Quick Pick" exterior colors or choose a custom color of your liking. Inside, Radiatta Pine can be stained or painted. Quaker can even paint the interior for you with 2 standard choices or, again, pick a custom color that'll compliment your home's interior. Glass can be tailored to meet whatever efficiencies you desire. Other options include retractable screens and added safety features.
Manchester Series
Quaker's Manchester Series is their vinyl window and door line for new homes. The Manchester Series has every operable units available -hung, sliding and venting -plus fixed picture windows too. A matching sliding patio door completes the Manchester collection. Three vinyl colors on the interior and exterior are immediately available. But color customization is always available. Eleven painted exterior colors can give you more choices when it comes to matching your home's exterior facade. Quaker's multitude of glass choices allow you to get your expected energy-efficiency 24/7/365. Special options include safety features and exterior and interior accessories, and you get the convenience of vinyl that's nearly maintenance-free.
ModernVU Series
New, modern homes are wanting new, modern windows –products that can be taller, wider and stronger, with plenty of energy-efficiency built in -Quaker's ModernVu Series is just that product. The ModernVu Series was designed, engineered and tested with a flexibility that allows for larger window and door units, allows for larger viewing areas, yet has the strength to withstand even the most stringent weather conditions. In essence, creating a glass wall appearance. Available in venting or fixed picture window styles. There is also a sliding patio door and hinged terrace door. Thermally-enhanced aluminum easily achieves thermal efficiencies that weren't thought possible with aluminum windows and doors. A full gamut of color choices can make every home standout and plenty of options are available on every product.
Find out for yourself why BWS is considered the leading source of Quaker Windows and Doors in the Nashville and Middle Tennessee area!
Have a question? Please complete this form and one of our team members will get back with you shortly.